Upcoming Courses

Exploring Oils – Dave West RESCHEDULED, NEW DATE TBC
14th April 2021

-

16th April 2021

|

€350
Date: 14th April – 16th April 2021 RESCHEDULED, DATE TBC. FOR FURTHER INFO PLEASE SEE OUR HOME PAGE 'LATEST NEWS' SECTION https://www.artform.ie/covid-19/ 
Medium: Oil Paint
Participants: Maximum 8
Course level: This course is suitable for those who have some experience at the basics of art but have little or no experience of oil painting.
Dave West is a full time artist and art tutor originally from South Wales and now living in North County Dublin. He studied Illustration at the Carmarthenshire College of Art & Design and more recently gained a degree in Art History.
Dave's practice comfortably crosses several art forms and he is equally at home working in pencil, charcoal, pastel and oil paint.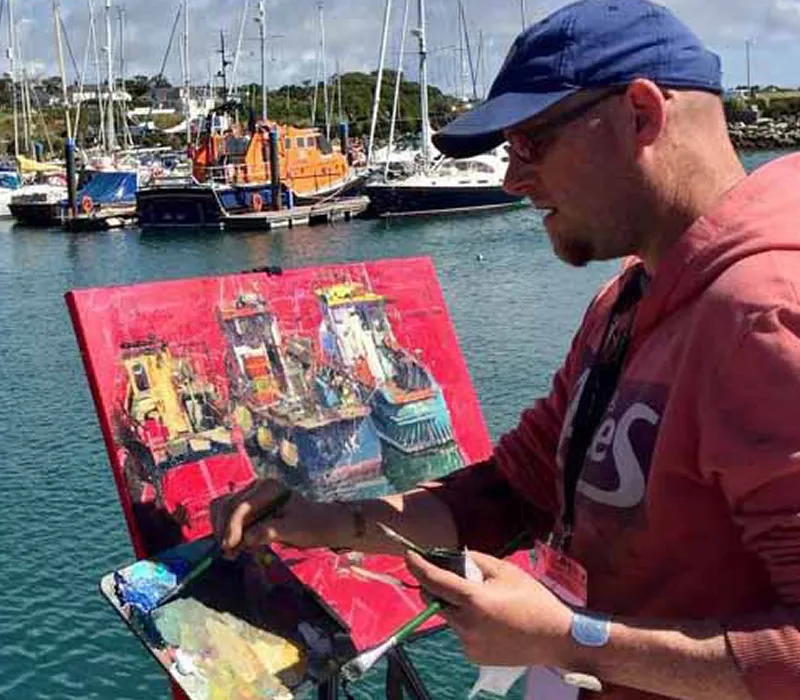 Dave is passionate about 'plein air' painting which involves working (in all weathers) directly from the subject. In 2017 he won the Gold Mayoral Award at the 'Art in the Open' international plein air painting festival.
He has had numerous solo exhibitions and exhibited widely in Group Shows including the Royal Hibernian Academy and Royal Ulster Academy, and in the UK with the Royal West of England Academy, Royal Society of Oil Painters, Royal Society of Marine Artists, The New English Art Club, The Royal Society of British Artists, and the UK Pastel Society, at which he won the 2013 Schminke Award.
Course Concept
Over this 3-day course Dave will introduce participants to the basics of oil painting. Initially we will look at the background of oil as a paint medium: what it is, how it behaves, the range of materials available and how oil differs from water soluble media like acrylic and watercolour.
Dave will explore brushwork and the large range of marks, effects and textures that are possible with this most versatile of paint mediums. At the end of the course you will have gained practical experience in how to mix any colour, how to manage values and intensity, and the techniques of applying the paint to canvas to create lifelike and vibrant paintings.
* The course takes place in the beautiful coastal village of Dunmore East and the Artform modern ligh-filled studio with 24hr access for each visiting artist, and runs from 11am to 5pm on the first day and from 10am to 4pm on the subsequent days. Cost does not include accommodation, on request Artform offers artist accommodation options. Details on art materials and safety will be provided after signing up to the course. Artform operates comprehensive Health and Safety studio policy as well as full credit/refund policy for artists affected by Covid-19 restrictions.
Tickets are not available as this event has passed.