Upcoming Courses

Exploring Watercolours with PJ Lynch 1
August 4

-

August 6

|

€350
Course Date: 4th – 6th August 2021 
Medium: Watercolours
Participants: Maximum 8
Course level: Beginners – Intermediate
Course Cost: €350
P. J. Lynch has won many awards for his work as a book illustrator including the prestigious Kate Greenaway Medal on two occasions, and his books have sold in their millions.
In recent years, P.J. Lynch has been commissioned to create posters for Opera Ireland and the Abbey Theatre, as well as designing stamps for An Post, and coins for the Royal Mint.
He has also designed Europe's largest mosaic for the Basilica at the Marian Shrine in Knock.
In 2016 PJ was inaugurated as Laureate na nÓg by President Higgins.
His most recent book is "The Haunted Lake", Walker Books 2020.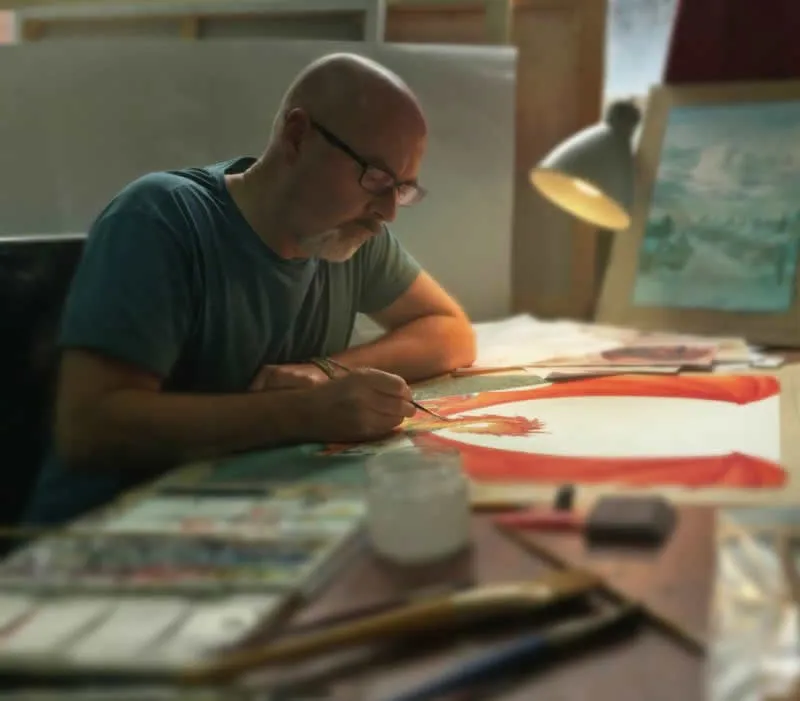 This course will suit beginners who have never tried watercolour and intermediate artists who want to refamiliarise themselves with this most challenging and rewarding medium.
We will cover all aspects of the watercolour process. Starting with the question of which paper to use, and if required, how to stretch the paper on a drawing board.
We will discuss the right brushes and paints for a particular outcome, and we will learn how to set up and maintain your palette.
Then on to the basic strokes; wet on dry, wet on wet, layering washes, tipping in pigment, and lifting it out again with a brush or a tissue.
When we have familiarised ourselves with the basics of the medium, we will progress on to practical painting projects working from life or from photographic reference. Our subjects will be still-lifes, a portraits or a landscapes.
Above all, this course will give the participants the confidence to play with watercolour, to learn what you can control and to understand when you need to surrender to the medium… letting the medium do the work, achieving intricate edges and beautiful gradations of tone and colour.
* The course takes place in Artform modern ligh-filled seaside studio with 24hr access for each visiting artist, and runs from 11am to 5pm on the first day and from 10am to 4pm on the second day. Cost does not include accommodation, on request Artform offers artist accommodation options. Details on art materials and safety will be provided after signing up to the course. Artform operates comprehensive Health and Safety studio policy as well as full credit/refund policy for artists affected by Covid-19 restrictions.
Tickets are not available as this event has passed.